Kitchen Remodeling
Kitchen remodeling is dollar for dollar the best investment you can make in your home. With the highest ROI of any home remodeling project, it's sure to make you the happiest, too.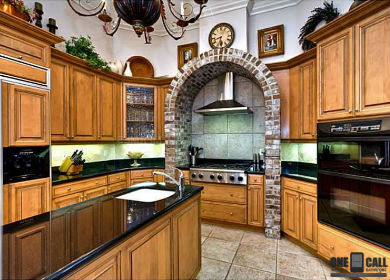 Are you looking for professional kitchen remodeling that
you can be proud of?
Call (205) 588-2789 Today.
Our contractors can expertly develop the perfect layout and build it flawlessly. From ovens to outlets, we'll handle every detail for stunning results.
Kitchen Remodeling Ideas
Especially for first-time home buyers, people fall in love with a house and are willing to overlook flaws. But after a few years, they start to notice what works and what doesn't. You don't have to be stuck with a kitchen you hate. Professional kitchen remodeling can add more space, shuffle the layout or even start from scratch. Depending on your major gripes and your budget, we'll help you choose the best course of action.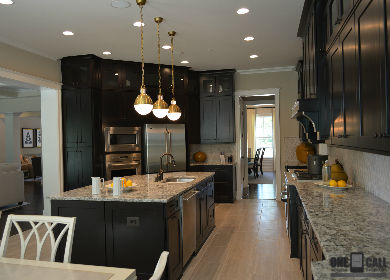 More space. For several decades, kitchens lost their gravitas due to the microwave dinner. Families spent less time cooking and more time in front of the television, so kitchens shrunk in size. Now that there's a renewed interest in cooking fresh meals, cramped kitchens need to be bulked up. If there's extra space outside, we can push walls out. If there is unused space in an adjoining room, we can use that to expand.
Layout changes. Many times, there's just one thing that is off about your kitchen, but it's really off. For instance, plenty of homeowners have been frustrated to find that they can't open their refrigerator and oven or a cabinet at the same time. That doesn't mean you have to totally start over. We our local kitchen remodeling company can help you with some affordable tweaks to solve the problem.
Is the list of what you hate longer than what you like? In this case, a total remodel may be in order. We're not scared! From design development to clean up, we'll organize every detail to ensure the process runs smoothly. We work hard to stay on schedule and on budget.
When you need a kitchen remodeling contractor you can count on, contact our team. We've been in the business for over a decade and know how to handle the inevitable curve-balls that happen during any home remodeling project.
Call us for high quality kitchen remodeling in Birmingham, Hoover, Vestavia and Mountain Brook, AL.