Vestavia Kitchen Design
Kitchen design is one of the most important choices you can make for your home. Not only will it affect your everyday life, but it could have a dramatic impact if you ever decide to sell.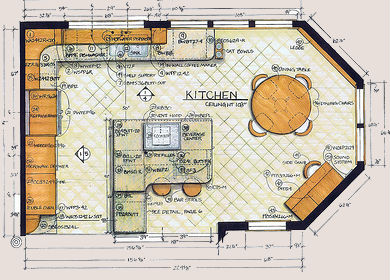 Smart kitchen design. You're gonna love the way you cook.
Call (205) 588-2789 Today!
When you're looking for a company that can turn your kitchen into a cook's wonderland, we're the company to call. With over 10 years under our belts, we're masters of kitchen remodeling and renovation.
Kitchen Design Ideas
With a decade of experience, we know that the best kitchen design ideas start with you. After all, it is the place where you cook, eat, pay bills, do homework and spend time with your family. You know what you like and what you don't; what works and what doesn't. This is the most important information we can collect during the design process. Because it doesn't matter how beautiful kitchen is if it isn't what you want.
Cabinets. Most quality kitchen design is built around the cabinetry layout. Once you figure out where the cabinets and appliances will go, everything else falls into place. You aren't stuck with the same, old generic cabinets anymore. In addition to those and standard style drawers, you can mix in some custom spaces like a tall, narrow cabinet for cutting boards and cookie sheets or corner drawers that allow storage of lengthy utensils.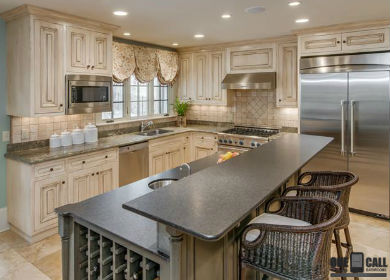 Countertops. Because the kitchen is a place where people cook, bake, and hang out with their family, there has to be plenty of space for everyone. For the most part, your cabinets will define where you have counters. But islands allow for unique, standalone space. Clever placement of outlets on the island and throughout the kitchen allows you to use the counters as your family intended.
Floors, Lighting and Decor. Once the cabinets, counters and appliances are in place, the rest falls into place much easier. Choosing colors and well-coordinated accessories gives the room charming personality. We can help you sort through all the choices to find your personal style within your budget.
We are a full service Kitchen Design Company. No matter what your project entails, it all starts with awesome design. We're highly rated on Angie's List and with the BBB, because we ensure our customer's satisfaction.
Call us today to get the best kitchen design in Birmingham, Hoover, Vestavia and Mountain Brook, AL.