Kitchen Islands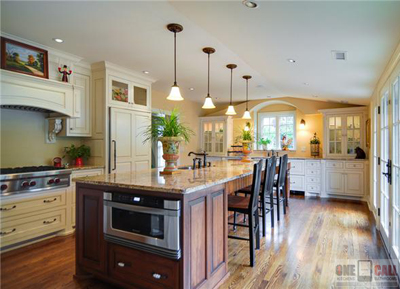 Nothing provides a more useful purpose than a kitchen island. We can design, plan and build it with seating or without.
Are You Dreaming of having a kitchen island? Get it Custom built & installed Today.
Call: (205) 588-2789 Today.
Whether you simply want additional counter space or functional prep-station with a sink and appliances, our kitchen island designs will accommodate your needs.
Custom Kitchen Islands Birmingham, AL
The size of your kitchen has a lot to do with the amount of cabinetry and countertop space you can add to it. Since no two cooking rooms are exactly the same, building a custom kitchen island is usually your best option. The biggest benefit to adding these unique prepping stations is they can be designed and built to match your existing kitchen. Many of the customized pieces that we build designed to be used for:
Seating Areas:

Serve breakfast, lunch, dinner or simply entertain family and friends while whipping up tasty recipes.

Food Preparation:

Having a dedicated space to chop, wash and prepare food makes life so much easier.

Cooking Station:

Imagine relocating your stove to the center of your kitchen, complete with a beautiful hood to whisk the heat and steam away.
Planning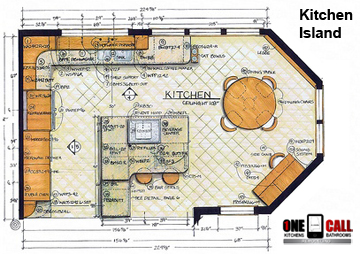 The first thing you need to do before considering kitchen island plans is deciding on what you want it to do. Is it going to be for additional seating or just for more counter space? Will you need to plug in appliances or have running water? Today's workspaces have plumbing and electrical outlets strategically placed for maximum use. Knowing what you want helps tremendously when it comes to the plans for building it.
Design
It truly takes a talented craftsman to give you the best kitchen island design for your home. Some of the most common design ideas incorporate functionality with beautiful materials. After our initial consultation with you, we will use that information to design exactly what you want. By using beautiful wood, stone, metals and glass, your island will reflect the class and style that is uniquely yours.
Seating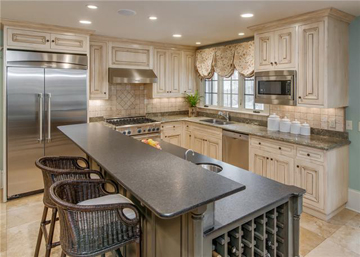 Kitchen island seating is one of the most sought after features we get requests for. As a professional remodeling contractor, we can plan, design & build these eating and entertaining spaces to host from 2 to 10 people comfortably.
The countertops for these kitchen seating areas can be made of granite, glass, stone and polished concrete. Want wrap around seating at your island? We'll show you how to make it work.
We build custom kitchen islands in Birmingham, Hoover, Vestavia Hills, Mountain Brook and Pelham, AL.