Vestavia, AL Kitchen Remodeling
We serve all the cities and towns of Jefferson and Shelby Counties in Alabama.
One Call Kitchen & Bath Remodeling
When you choose kitchen remodeling for your home, you get the chance to get exactly what you want. An old, dated kitchen can suck the cooking enthusiasm right out of you. Today, we can design the culinary space of your dreams and build it in less time than you think.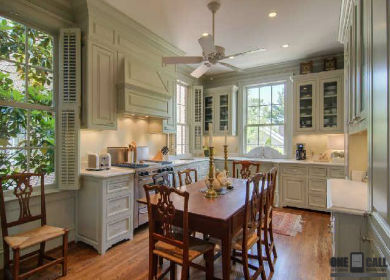 The layout of properly designed kitchen is almost as important as the materials and appliances that will go into the remodel. Oftentimes we relocate refrigerators, stoves and walls to make for a more natural flow to the kitchen's workspace. Once the design is complete the remodeling plans will be made.
Solid wood cabinetry is smart choice for beauty and long lasting performance. This includes the kitchen cabinets above and below the countertops. Birch, Maple & Walnut offer classic styling while Oak is still a traditional favorite. Experienced kitchen remodeling contractors know how to install every kind and type. We can replace old cabinetry with beautiful new ones along with new pulls or knobs.
Examples of kitchen remodeling would include granite or other solid surface countertops. Deep sinks also known as "farm house sinks" with rustic faucets are very popular today. Flooring choices for complete kitchen remodeling projects are many. Personal taste and professional suggestions for our design team will help you narrow the selection. Hardwood, tile, stone and even cork flooring have been installed in the kitchen on many occasion.
One Call Kitchen & Bath Remodeling has been renovating kitchens for many years. From our designers to our skilled craftsmen, we're committed to delivering the kitchen you've so patiently waited for all these years.
We are a kitchen remodeling company in Vestavia, AL.